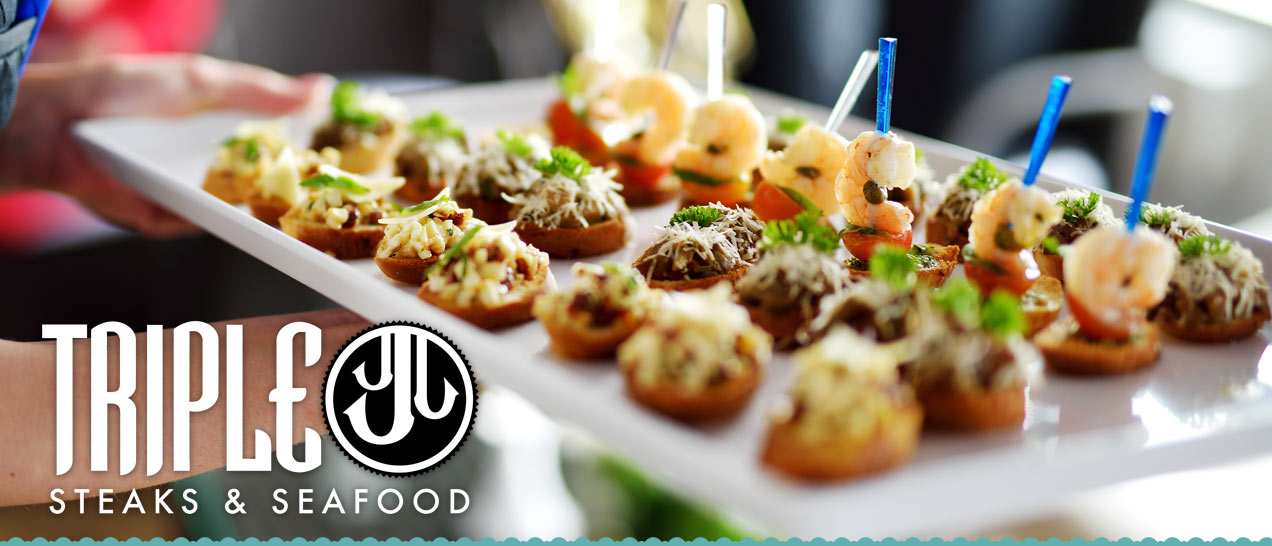 Triple J Catering in Panama City Beach
Triple J Steakhouse is not only famous in the region for serving up some of the best grilled steaks and fresh Florida seafood. They are also known as one of the best Caterer's in the business. Part of a family of local restaurants and established by one of the most respected large-scale catering companies in all of North Florida, Vittle's Inc, Triple J has been providing the highest quality catering and event planning services since opening the doors of the restaurant in Panama City Beach back in 2002.

Create a magical event!
Having a small dinner party and you need a personal chef and cocktail server? Throwing a lavish party for over 300 people, each with discerning palates and refined tastes? It doesn't matter! Whether you are planning a small get-together in your home or a full scale event such as a wedding or corporate affair, Triple J and Vittles have the expertise and highly skilled staff that can help you personalize your event with exactly what you want for you and your guests.

Craving Something A Little Different?
By no means do you have to choose from the items on the Triple J menus. Our highly trained chefs can develop a menu that is specifically designed for your event at a cost that is just as satisfying. Whether you are looking for the old fashioned fish fry complete with cheese grits and southern vegetables or the refined menu with unique and bold flavors & textures, the catering staff of Triple J and Vittles, Inc can help you plan and organize the perfect menu that exactly fits your event and budget. The same quality and care philosophy that defines Triple J Steak, is truly exemplified in their catering!

Event Planning Done Easy
Triple J and Vittles also has everything that you could possibly need for every size event. Items such as tents for large outdoor events, tables & chairs, wedding supplies, dishware, glassware, and other hard to find accessories are all part of the vast Triple J and Vittle's, Inc catering inventory. No need to call five or six different places in order to get everything you want. One call will get you everything you need to help you plan your next event! So many options are available we help make it easy with an experienced Personal Event Planner that can answer all the questions you may have about how to make your event your own!
Feel free to contact us for a Free Catering Consultation or Free Event Planning Consultation. A Personal Event Planner will get back with you very shortly to help you plan your next perfect affair!