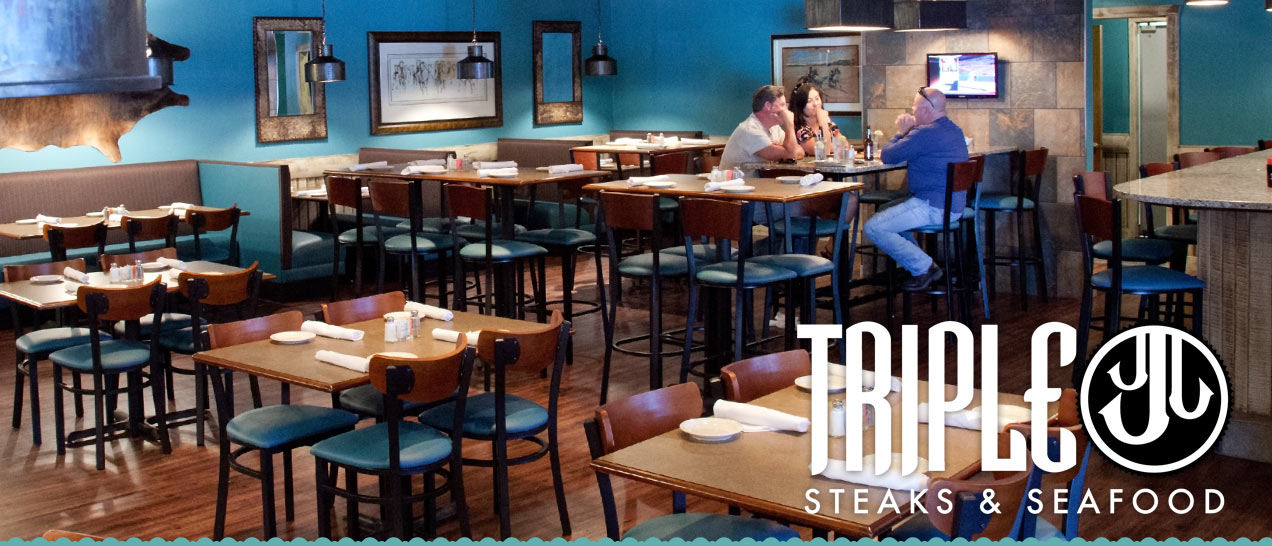 About Triple J Steakhouse & Seafood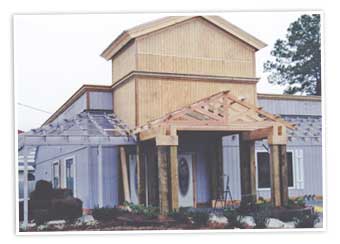 Named after the owner's three sons, Joey, Jake and Josh, locally owned and family operated Triple J Steaks & Seafood opened our doors in 2000 and we have been pleasing the palettes of our welcomed guests ever since. With our perfectly grilled steaks and fresh seafood, Triple J has a developed a very large following within the local community and has also become very popular with tourists in Panama City Beach. Triple J's commitment to quality of food and dedication to extraordinary service has been the driving force behind everyone here at the restaurant and is also why we have so many satisfied customers.
Whether you choose our slow-roasted Prime Rib, our tender Filet Mignon or our signature center-cut Triple J Sirloin, you will find it to be one of the best steaks you have ever enjoyed. If fresh Florida seafood is your thing, try our fresh fish of the day or one of our nightly specials. We only offer the best! Maybe the jumbo gulf shrimp or sea scallops is more towards your liking? Choose your favorite, relax and enjoy as each dish is prepared to order with care and presented to you with a friendly southern smile!


More Than Just A Great Steak
In addition to our amazing Triple J Dinner Menu, we offer one of the best lunches available anywhere. With Southern favorites including homemade Meatloaf & Country Fried Steak, mouthwatering burgers & sandwiches, a large selections of salads and even desserts we have something for everyone. And let's not forget our famous side dishes. Our hand battered fried green tomatoes and onion rings are near legendary in the area and other favorites such as turnip greens, sweet potato soufflé and fresh sauteed spinach make lunch at Triple J such a pleasing experience.
Looking for a place to enjoy a casual brunch on the weekend? You've found it at Triple J. Starting at 9am on Sundays enjoy a expansive menu offering much more than your traditional brunch dishes, you'll want to come back again and again to try each of our handcrafted dishes. Saturdays and Sundays are for relaxing and there's nothing better than a Bloody Mary or Mimosa or kick off your weekend.
We offer plenty of seats in our main dining room and can accommodate both small and large groups, We also have plenty of parking so buses and tour groups are invited to come and dine with us at Triple J.
Triple J also offers all of our menu items TO-GO so if you don't have time to stop in, pull up to our designated take-away parking area and enjoy your favorites at home.


Have A Seat At The Bar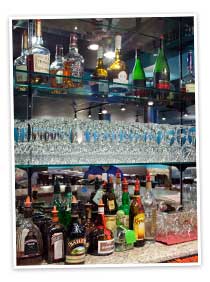 We offer a full service bar complete with a full array of the finest call and premium liquors and a large assortment of bottled and draft beers in both domestic and import varieties. We also have a very extensive wine list that is sure to please even the most distinctive palette. Afternoon cocktails are always popular and guests always enjoy our Happy Hour that runs every single day from 3pm to 6pm. We also run specials throughout the week so make sure that you ask your bartender about the day's special. There's often a crowd so get there early!
Sitting at the bar and want a bit to eat but don't want a large meal? Enjoy one of our delicious appetizers such as our Durango Dip or Boom Boom Shrimp or dive into the Triple J Burger or the Chicken Club. Just enough to satisfy those late afternoon hunger pangs!
We have plenty of room and can accommodate both small and large groups. We also have plenty of parking so buses and tour groups are invited to come and dine with us at Triple J.
Triple J Steaks & Seafood is always casual so bring your friends and your family and have one of the best dining experiences available in Panama City Beach.